My Very Special Day That Was Better Than Yours, hopefully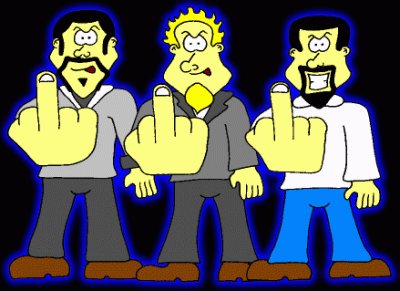 My mom is talking to my cat and I want to smack her really bad because she just accused me of looking at porn last night. Dude if I ever would look at porn (eewwwy) I would have enough respect to not do it on the family computer. They sent this feedback crap to her name, and if I looked at porn, I wouldn't use her fucking name. She hates it when I swear (she smacks me for saying hell). ::::Removed obscene comments:::: If anybody would like to complain about my mom and death threats and all that shit, just sign it in the guest book and I'll write it in. OK luv u guys lots!

Ok I have decided to add to this. mostly because I am listning to Kevorkian and that sort of gets you in the mood to kill people. Maybe I should have you guys give me ideas on how to kill my mother, oh wait. Robbie is on, somebody to talk to finally, I guess I'll write later.

I be Back. I had to delete some crap in the first paragraph because it was nasty and was making people sick. So I will complain here about family, I luv my family, but the other people like Linda, Andy and Jena, I don't love. I miss Trent I wanna go see him. I'm working on it.I drew another pic of him. I think I have work tomorrow so I guess I'll go.